James Ehnes, The Boy from Brandon: Canada's Violin Hope

by Philip Anson / October 1, 1998

---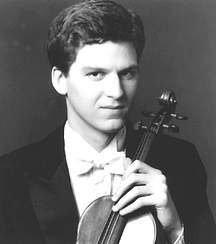 Manitoba-born James Ehnes is the hottest Canadian violinist to come along in a long time. At 22, he has moved beyond child prodigy status without losing any of his early promise. To judge from his performance of the Beethoven Violin Concerto with the McGill Chamber Orchestra in Montreal last April, Ehnes's best years are ahead of him. Local critics went wild, comparing Ehnes with the young Yehudi Menuhin. That evening, we witnessed a rare phenomenon : a born artist with remarkable technique and sensitivity but without vanity or cheap showmanship, winning his audience by the force of music alone. La Scena Musicale caught up with Ehnes on vacation in Indiana, where we got the story of his career from its very beginning.

Ehnes grew up in a musical household in Brandon, Manitoba. His father was a trumpet professor at Brandon University and his mother a former ballet dancer. "I could have chosen any instrument, because they were all around, but for some reason I only wanted a violin." Ehnes guesses that it was Itzhak Perlman on "Sesame Street" that turned him on to the violin at age 4. "I remember longing for a violin for what seemed ages, but was probably just a few months. Something about the way a violin produced music excited me. I knew then that it was the instrument for me," he recalls.

In 1979 his parents gave him a mini-violin for Christmas. Between the ages of 5 and 9 he took lessons from his father and he performed at local arts festivals. At 9, he started taking lessons from Dr. Francis Chaplin, a renowned violin teacher who was fortuitously also on the faculty of Brandon University. James gave his first full-length solo recital at 10. It was also around that age that he overcame his stage fright. "At my first major competition I just blew a gasket. I just said, to heck with this." He hasn't suffered much from nerves since then.

Through Chaplin's connections Ehnes spent four summers (1989-1992) at the Meadowmount School, run by the Society for Strings. There he established a rapport with Professor Sally Thomas, whom he followed to the Juilliard School. At Meadowmount he also won the $25,000 Ivan Galamian Memorial Award (Galamian, the founder of Meadowmount, was the teacher of both Francis Chaplin and Sally Thomas, as well as superstars Itzhak Perlman, Pinchas Zukerman and Kyung Wha Chung).

Juilliard is a tough school, and Ehnes describes his time there as "a good experience overall. Any school that size has its political problems, and it was not all smooth sailing, but in my senior year I was treated very well by the administration." Ehnes counts himself lucky to have been a pupil of Sally Thomas, a very tolerant teacher compared to some of Juilliard's draconian pedagogues. "Miss Thomas gave her students individual freedom to explore who they were, musically. She allowed flexibility in bowing and fingering, so her students didn't all sound alike. She never taught by formula and she never fixed technique that worked." After graduating from Juilliard in 1997, Ehnes moved permanently to New York in order to remain close to his friends.

In 1993, Ehnes was singularly honoured when legendary Toronto impresario Walter Homburger (Glenn Gould's former manager), came out of retirement to direct his career. Since then Ehnes has played with many of the major symphony orchestras in North America, Europe and Asia, and in 1995, he signed an exclusive recording contract with Telarc Records.

Due to the weak classical music market, only one Telarc CD has been released. "I'm really into the recording side of the business, so it is frustrating that Telarc has already cancelled four projects. I consider our relationship friendly, but I'm exploring other options." A recording with CBC Records is on the drawing board. Ehnes would be a definite catch for a major label.

Ehnes's biggest concern these days is not work, but finding a new violin. His current instrument, a 1717 Windsor-Weinstein Stradivarius on loan from the Canada Council Instrument Bank, must be returned in 18 months. Finding someone to loan or finance another Strad is proving a headache. "Those who want to help don't have the money, and those who have the money don't want to help," he muses. A good Strad runs upwards of $2 million. "Even paying the interest on that means Kraft Dinner for the next 60 years."

Perhaps Ehnes's friend Yo-Yo Ma can help him out with the new fiddle. Ma and Ehnes met through Homburger, and hit it off right away. "Yo-Yo and I share many of the same ideas about music, and he invited me to play with him. He's incredibly generous to young musicians." Ma and Ehnes will play a duo recital at Roy Thompson Hall next January 15, in honour of Walter Homburger's 75th birthday.

Bravo James ! Here's to a new violin, more CDs and less Kraft Dinner.

James Ehnes will play with the Ladies' Morning Musical Club in Montreal November 1 at 3:30 pm. He will also appear with the Vancouver Symphony Nov. 6-8, the Timmins Symphony Orchestra November 14, the Saskatoon Symphony Feb. 6, the Kitchener Symphony March 3-5, and in Guelph on March 6, 1999.
---
Version française...
---