French translations of articles will be available in 1997.

Dans ce numéro / In this Issue

Calendrier de novembre/November Calendar (expired)

Dead Singer's Society Jussi Björling



Editeur/Editor
Wah Keung Chan
Contributeurs/Contributors:
Phil Anson, Eric Legault
Adresse/Address
5411 Waverly,
Montreal, Quebec
CANADA, H2T 2X8
(514)274-0465/
Fax: 274-9456
email:chanw@ere.umontreal.ca
Web: http://www.scena.org/
La Scena Vocale, publiée dix fois par année, est consacrée au plaisir de la musique vocale. Chaque numéro contient un calendrier de concerts, conférences, films émissions sur le chant à Montréal ainsi que des critiques et des articles sur des chanteurs.
La Scena Vocale is dedicated to the enjoyment of vocal music. It is published ten times a year. Readers will find listings of live concerts, conferences, films, broadcasts in and around the Montreal area as well as articles on singers and reviews.
Date limite/Deadline:
SVP, envoyer les renseignements sur votre événement par fax, courrier électronique ou par la poste au plus tard le 21 de chaque mois.
Please submit your event in writing by fax, email or post by the 21st of every month.
Abonnements/Subscriptions:
Pour le moment, les abonnements par courrier éléctronique et par télécopier sont gratuits. L'abonnement par la poste coûte 7$/an. S.V.P. envoyez votre nom, adresse, no téléphone/télécopieur et courrier électronique aux coordonnées indiquées à l'en-tête de ce numéro. Tous les dons seront appréciés.
Email and fax subscriptions are free until further notice. Surface mail subscriptions cost $7/yr to cover postage and handling costs. Please mail, fax or email your name, address, telephone no, fax no, and email address to the address/fax/email at the top of the cover page. Donations are always welcome.
Distribution
Info Arts-Bell, disquaires/record stores, libraries/bookstores, Facultés de musique , etc.
Publicité de détail / Advertising
Appeler pour les tarifs de publicitaire. Un rabais de 25% pour les groupes non professionnelles.
Ask for our advertising rates. 25% discount for non-professional groups.
Ver: 1996-10-28
© Wah Keung Chan
Dead Singers' Column
by Wah Keung Chan
Jussi Björling (b. Magasinsgatan, Borlänge, Sweden, February 5, 1911; d. Siarö, Sweden, September 9, 1960)

At last an English Biography of the late, great Swedish tenor Jussi Björling. For too long Björling fans have had to make do with the skimpy information in recording inserts and occasional articles in periodicals. Three years ago, Amadeus Press published A Jussi Björling Phonography by Harald Henrysson. Now Björling's widow Anna-Lisa and Andrew Farkas have co-authored a fascinating, generously illustrated biography predictably entitled Jussi (Amadeus Press- $57.95 Cdn).
Björling was born into a musical family in Sweden. His father, David, was a tenor trained in New York and Vienna who narrowly missed a career with the Swedish Royal Opera. From earliest childhood Jussi and his two brothers were taught by their father in the traditional vocal technique based on breath management and natural singing. Jussi's fabulous legato and natural technique is a result of this foundation. Between their mother's death in 1917 and David's in 1926, the Björling Male Voice Quartet toured extensively including a 1920 visit to the United States where they made a few interesting recordings (now included on Gala GL 100.514)
At the age of 17 Jussi won a scholarship to the Stockholm Conservatory. His voice teacher John Forsell quickly became a father-figure for the orphaned young man. He helped Jussi refine and polish his style, though Jussi still relied on his brothers' criticism when it became clear that Forsell's method was producing a forced, unnatural sound. Thereafter when Forsell corrected his technique, Jussi said "I must sing my way or not at all!" Jussi was a quick study and a marvellous mimic. It is reported that he acquired his prodigious top notes in just one session with Scottish tenor Joseph Hislop.
Though not much of a natural actor in his early career, Jussi's phenomenal breath control, effortless technique, and emotionally expressive voice carried him to the stages of all the world's great theaters in opera, oratorio and lieder. His lyric tenor combined a silvery, sweetly resonant nordic timbre with the easy power of the greatest italian voices, hence his reputation as the Swedish Caruso. One never tires of listening to Björling's voice. All of his colleagues attest to his great musicianship, and how his voice moved them when they sang with him on stage. Though he was in great demand everywhere from the Met to La Scala, his roles remained limited to the basics - Alfredo, the Duke, Faust, Romeo, Rodolfo, Radames, Manrico, Des Grieux, Pinkerton. With a wife and children to support, financial security was a priority. Björling preferred lucrative concert recitals to opera. As Pavarotti wrote, "Singers go where the money is."
Sadly, Björling suffered from excessive drinking. From his father David he inherited both his great voice and a weakness for the bottle. Jussi had made a promise never to touch alcohol at his father's death bed; it was a promise he was unable to keep and it proved to be his greatest failure. At home in Sweden, burdened by the demands on him, he often withdrew from his family to go on long binges, aided and abetted by his buddies from the conservatory days. Contrary to rumor, however, he rarely performed drunk or cancelled due to alcohol.
Björling died on September 8, 1960 after having suffered from arrhythmia, a heart condition, for three years. His voice was in prime condition. At this time his voice still retained most of the lyricism while possessing more shades of darkness and weight. Otello and Lohengrin, two of the dream roles that he had put off till he felt vocally ready, were within his grasp. Plans were being discussed for the next years ahead. Indeed, one month before, in his last orchestral concert, Björling sang "In fernem Land" from Lohengrin. Fortunately for us, this was recorded (on Gala GL 315) and stand as perhaps the most lyrical interpretation.
Björling's recorded legacy is rich and rewarding. Of these, Anna-Lisa singled out the acclaimed Il Trovatore on RCA with Milanov and Warren, Manon Lescaut with Albanese, the Pearl Fishers' Duet (RCA 77992-RG) with Merrill as highlights. Her favourite Björling role was Canio in I Pagliacci. In addition to these every fan should have his rendition of Ingemisco from Verdi's Requiem, Federico's Lament from L'Arlesiana (the interpolated high B is unsurpassed), Beethoven's Adelaïde and R. Strauss' Morgen. Many of these are available from EMI (CDH 7647072 &CDH 7610532). The London compilation (421316-2) of Verismo arias was my early favourite and shows him in great mature voice, though now I find the Decca recording technique of that era rather dry, lacking the brightness found on other labels.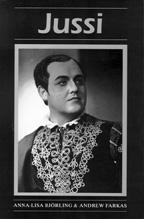 Co-author Andrew Farkas, a university librarian, chose to take a scholarly approach to the manuscript. As such, comments from other singers, managers and people who had direct contact with Björling are plentiful. The book is an easy read full of anecdotal information, such as a description of the occasion when Björling gave a lesson in conducting to a young conductor. "I have to breathe," said Björling as he took the baton and conducted the orchestra while singing. There was also the time he finished an aria for a soprano who lost her voice during an operatic performance. Björling was also a man of incredible strength and he could boast never having lost an arm wrestling match.
From Jussi we find that Björling was born to become a singer. Björling's voice remained pretty much the same through his career. He overcame an early tendency to emulate Caruso by listening to his colleagues and family. Unlike many singers, he never took on roles that were not well suited for his voice. Björling was not without fault. He fathered two illegitimate children, one of whom was born before he met Anna-Lisa. He drank when depressed.
This is an engaging portrait of a humble man, a consummate artist troubled by the label of the greatest tenor of his generation. He is today accepted amongst the top three of this century.
WAK's Up
by Wah Keung Chan

Rescuing Damaged Jewel Boxes
Ingredient: A CD Jewel Box with a broken cover hinge. Tools: A pair of pliers and industrial-strength wide transparent tape.
With the pliers, break off the other cover hinge cleanly. Close the jewel box. Tape the cover to the spine of the CD box. Done - new life for a
fallen Jewel ... box.

Opéra de Montreal - Le Gala
L'Opéra de Montréal (985-2222) recently announced details of their $100 per ticket fundraising gala to be held on December 12, 1996 at 7:30 p.m. at Salle Wilfrid-Pelletier of Place des Arts. As of October 8th, the confirmed singers numbered 43 of which the most notable is baritone Sherrill Milnes, while most of the remainder have sung with the Opéra de Montréal. The acclaimed O de M chorus will also join the fun, along with conductors Mark Flint, Joseph Rescigno and Alfredo Silipigni.

NATS Voice Competition
held recently on October 26 and 27 for students of local members of the NATS International - Montreal Chapter awarded prizes for best performances to Anthony Flynn, first, Shannon Mercer, second, Terence Mierau, third, in the senior categories, and to Joseph Kaiser, first, Jeffrey Thompson, second, and Leslie Michaels, third, in the junior categories.

**** End of November issue Fin *****