Toronto Diary

by Joseph So
Nov. 18, 1997. The Kitchener-Waterloo Philharmonic Choir opened its 1997-98 season with Mendelssohn's intensely operatic oratorio Elijah. The strong quartet of soloists was led by bass-baritone Gary Relyea's inspired reading of the title role. Soprano Heidi Klassen, a seasoned concert artist, sang a dramatic "Help me man of God!" and a contemplative "Hear ye, Israel". Tenor Michael Schade produced his usual ringing tone and showed total involvement in the relatively small role of Obadiah, even though his final performance of Oedipus Rex for the COC would be than a day away. Mezzo Norine Burgess's lush tones and musicality were shown to great advantage in the Angel's beautiful arias. The K-W Philharmonic Choir voices blended wonderfully. Howard Dyck conjured a big sound from the relatively small Orchestra London. The enthusiastic ovations for this superb evening of music making were genuinely felt and deserved.
November 20, 1997. Toronto lieder lovers enjoyed recitals by Bryn Terfel (Nov. 16) and Olaf Bär within a span of just five days. Both were return engagements following highly successful debut recitals. Terfel's charisma and phenomenal voice guaranteed a sold-out house and frenzied audience response but, for all Terfel's charm, I consider Olaf Bär the greater lieder interpreter. Bär's wonderful lyric baritone seems to have expanded and darkened since his last Toronto appearance. He has a rich mezza voce which he uses liberally, though he is capable of ample bursts of power. One feels Bär's singing is in the service of the music, in contrast to Bryn Terfel's extraordinary voice and technique which are sometimes merely impressive at the expense of feeling and refinement. Bär's top notes were free and beautiful but the extreme low notes gave him some trouble, particularly in Brahms' Vier ernste Gesange. Bär capped a masterful "Storchenbotschaft" with a gorgeous high note to end the program. Warren Jones accompanied ably throughout.
Nov. 23, 1997. Following on the heels of Holocaust Education Week (October 30-November 9), the Canadian Opera Company's Ensemble Studio offered a memorial production of Ullmann's The Emperor of Atlantis. Ullman composed the opera in the Terezin concentration camp in 1943 but died in Auschwitz before seeing it performed. The score achieves moments of lyrical beauty, such as the Emperor's final aria, movingly sung by James Westman. Other able singers included Thomas Goerz (Death) and John Avey (Speaker). The opera ended with a stunning coup de théâtre, the backdrop tumbling to the ground, revealing the watchtower of the concentration camp, while a sheet of barbed wire dropped in front of the cast. With sirens wailing and machine guns firing, the Gestapo led the cast to their death. The audience was stunned into total silence. Perhaps as an antidote to the unrelenting gloom of The Emperor of Atlantis, a Kurt Weill Cabaret with members of the COC Ensemble followed. Standouts included the stylish vocalism of Isabel Bayrakdarian and the sublime violin playing of Marie Berard. Richard Bradshaw conducted the chamber orchestra with clarity and passion.
Dec. 2, 1997. Fresh from receiving his honourary degree from the University of British Columbia, Dr. Ben Heppner came home to give a thrilling concert to a capacity audience at Roy Thomson Hall. Ably accompanied by Craig Rutenberg, Heppner sang Beethoven's "An die ferne Geliebte", four Schumann lieder, and Strauss's Op. 27 in the first half. Heppner successfully scaled down his big operatic voice to the size of the more delicate pieces, such as "Morgen" and "Du bist wie eine Blume". But it is fair to say his voice is happiest when he gives full reign to volume and brilliance - as in the more expansive parts of the Beethoven and in Strauss's "Heimliche Aufforderung" and "Cacilie". In the second of Liszt's three demanding Petrarch sonnets, "Benedetto sia il giorno", Heppner fearlessly tossed off a succession of high notes. Victorian parlour songs, including "Sylvia" by Oley Speaks and "Let my song fill your heart" by Ernest Charles, followed. Encores included "Come un bel dì di maggio", "Amor ti vieta", "Be My Love" and "Danny Boy", all greeted by thunderous applause and ovations.
Dec. 4, 1997. Following a successful performance last year, the Canadian Opera Company decided to reprise Berlioz' L'enfance du Christ at the Ford Centre this Christmas as an alternative to Handel's Messiah. Despite some wonderful music, this Berlioz is rather a connoisseur's piece and attendance was low. Nevertheless, Richard Bradshaw led the COC orchestra with a sure hand, and the COC chorus has never sounded lovelier than in the Shepherds' Chorus.
Dec. 18, 1997. This year three Messiahs by the Mendelssohn Choir, Tafelmusik, and Les Violons du Roy competed for Toronto's entertainment dollar. For quality, Bernard Labadie's Québec City forces won hands down. Rarely has such a familiar piece sounded so fresh. The Studio de musique ancienne de Montréal choir produced a rich and full sound that belied their modest numbers. Among the superb quartet of soloists, soprano Karina Gauvin and baritone Brett Polegato (with a gorgeous "The Trumpet Shall Sound") deserve special mention.
January 23, 1998. A big publicity campaign and special prices attracted many children to the opening night of the COC's Maurice Sendak/Frank Corsaro production of Humperdinck's Hansel and Gretel. Sendak's designs created a whimsical yet ominous fantasy world. As the Father, John Fanning had some of the loveliest music to sing and made the most of his opportunities. As the abusive Mother, Alexandra Hughes scolded her kids between swigs of whiskey. The dysfunctional family theme carried through to the Act 3 appearance of the Wicked Witch, played with gusto by tenor Gary Rideout. Clare Gormley was a sweet-toned Hansel. The modest-sized voices of both Gormley and Kristine Jepson (Gretel) projected well. Both the Sandman (Isabel Bayrakdarian) and Dew-Fairy (Karen Ydenberg) had fresh, attractive voices, although their entrances lacked magic. Conductor Randall Behr deferred to the singers and the wonderful Canadian Children's Opera Chorus, which compromised the impact of the near-Wagnerian orchestration.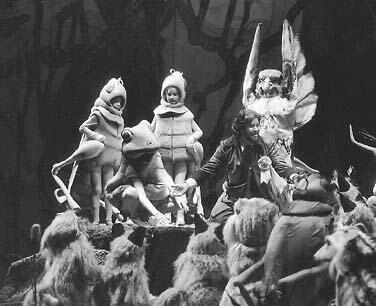 Jan. 27. The Sendak/Corsaro production of Janácek's The Cunning Little Vixen , originally created for the New York City Opera, was visually stunning. The opening tableau of animals in the forest, framed by beautifully painted scrims, was especially memorable. The cast was led by Rebecca Caine (The Vixen) who, despite moments of shrillness at the top, was dramatically and vocally riveting. Richard Paul Fink offered an imposing stage presence and sonorous vocalism as the Forester. Supporting roles were all strong, especially Beth Clayton (The Fox) and Benjamin Butterfield as the Schoolmaster. The libretto may seem a little quaint to late 20th-century sensibilities, but the celebration of love, death, and renewal is universal. The opera's musical beauty was certainly a welcome tonic against the drab Toronto winter. Richard Bradshaw conducted with passion and elan, bringing out the transparency and lyricism of Janácek's lovely score. (The Cunning Little Vixen, COC, photo: Michael Cooper)