New York Diary

by Philip Anson
January 12, 1998. The Metropolitan Operaís first staging of Richard Straussís Capriccio was a triumphant success. Though the opera is supposed to take place in 18th-century France, the sets and costumes were updated to 1920s Brideshead Revisited / Merchant-Ivory interwar chic with the intriguing result that the whole opera seemed caught in a Twilight Zone between two epochs 150 years apart. The strong cast featured Jan-Hendrik Rootering as La Roche and Kathryn Harries as Clairon. It strained credulity that the Countess preferred plain David Keubler (the composer) to hunky Simon Keenlyside (the poet). Dame Kiri Te Kanawa was the star and raison díÍtre of this production and it would be sad to think it was her farewell. Radiantly beautiful in a simple robinís-egg-blue dress and pearls, Kiri remains at 53 as bewitching as ever, sounding in better voice than on her recent EMI album of German arias. The musical highlight of the opera was the Countessís final "mirror scene." Bathed in a transcendent blue spotlight, Dame Kiri examined herself in an imaginary "mirror" facing the audience, casting her wordless spell directly onto the mesmerized Met audience. Andrew Davis squeezed every drop of orchestral schmaltz from this magical Marschallin moment. Kiri Elyson!
Jan. 13. The Metís new production of Stravinskyís The Rakeís Progress had everything going for it: beautiful sets by Peter Davison, stylised Roaring Ď20s costumes by Judy Levin, and an all-star cast directed by Jonathan Miller. Kudos first of all to Jerry Hadleyís stunning interpretation of the title role. Hadley has always been a fine actor. Now he is also in top vocal form, deploying a marvellous palette of expressive colours. Sam Ramey was a restrained Nick Shadow, more like the devilís advocate than the devil himself. Dawn Upshawís Anne Trulove was vulnerable enough to be pitied but not desirable enough to appeal to Tom, which is as it should be. Stephanie Blytheís Baba the Turk was vocally opulent but could have used a touch more camp. The auction scene was rather flat and the Bedlam scene was like diluted Marat-Sade. James Levine gave a correct but unexciting reading of Stravinskyís score. In the end, despite marvellous individual performances, one felt that director Jonathan Miller had no dramatic vision of the opera.
Jan. 14. Singers and critics alike have abused the 1998 Met production of Verdiís Il Trovatore (Joan Sutherland also blasts it in her new autobiography). The slippery stairs painted in high-gloss black and the Stygian non-lighting make movement dangerous and direction impossible. Nevertheless this evening was redeemed by a top drawer cast. Canadian tenor Richard Margison gave a heroic performance as Manrico. June Andersonís Leonora was less vocally errant than usual. Admirable technique goes a long way towards stabilizing her insecure instrument. However, as an actress, her generic posturing had little to do with Verdiís heroine. The star of the evening was mezzo Dolora Zajick - and she knew it, shamelessly milking her curtain calls while Margison and Anderson cooled their heels in the wings. Anyone who says there are no more great voices hasnít heard Zajick. The American mezzo is a force of nature and her Azucena is the equal of anyone in the history of recorded song.
Jan. 15. Everyone knows Carnegie Hall is an acoustic miracle, reverberating like a seashell from the wooden floor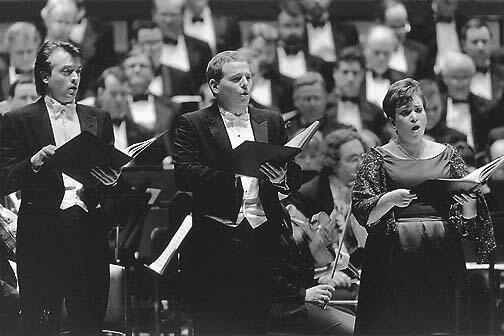 to the distant cheap seats (and you hear best from up there). Tonight over 100 choristers joined the superb Orchestra of St. Lukeís for a ruggedly moving performance of Haydnís The Creation, the culmination of a week of workshops under wizard Robert Shaw. It was a night to remember for Canadians Dominique Labelle and Nathan Berg, both star solists in this prestigious concert. Labelle delivered a radiant performance as Gabriel, even outshining her more famous colleague Sylvia McNair, who sang the part of Eve. Though Berg was a last-minute substitute in the big role of Raphael, his narration was confident, richly voiced and animated. Both Berg and Labelle are oratorio singers of the first water, and they deserve to be heard more often in Canada. (Berg - Clement - Labelle at Carnegie Hall, photo: Steve Sherman)
Jan. 16. Carnegie Hall was packed for the Marilyn Horne Foundationís Fifth Annual Gala. Highlights included Sam Rameyís aria from Attila and a rollicking "Donít fence me in" (Ramey is a Kansas boy), countertenor David Danielsí "Sweet rose and lilly" from Handelís Theodora (his Peter Brook-directed Glyndebourne performance of Theodora is now available on video), Dolora Zajickís aria from Adriana Lecouvreur, and the phenomenal Deborah Voigtís two Strauss Songs. The Horne Foundationís "up and coming young singers" - Lynette Tapia, Rinat Shaham, and 1997 Cardiff Singer of the World Competition winner Guang Yang - were what one would expect to find at the top of the class in the best music conservatories.
Jan. 17. The Bronx Opera Company is a great place to hear unusual repertoire for under twenty dollars. They recently staged Vaughan Williamsís shamelessly tuneful Hugh the Drover (1914) in Manhattanís John Jay College Theatre. As with any low-budget, community-based opera company, singers were a mixture of admirable young professionals and enthusiastic amateurs. Constantinos Yiannoudesís Showman was a believable and unifying presence. Honorable mention goes to soprano Maureen Tye (Mary) for her fine voice and acting. The chorus of two dozen moved and danced smoothly, singing with good diction and robustly enjoyable sound. The BOC orchestra played Vaughan Williamsís folksy music ravishingly well, making a good case for this neglected work.
Jan. 18. Die gyptische Helena (The Egyptian Helen, 1928) is one of Richard Straussís least known works, but as the American Symphony Orchestra under Leon Botstein proved this afternoon, it makes for a thrilling listening experience. Hofmannsthalís hallucinatory libretto, full of apparitions, exotic transformations and voyages on magic carpets is best staged only in the imagination. Soprano Helen Field delivered an intense reading of the witch Aithraís role (as difficult as Electra or Salome). Canadian tenor Paul Frey plowed bravely through the long and heavy part of Menelaus with mixed success. The star of the show was Deborah Voigt as the operaís eponymous Helena. From first note to last Voigt was absolute mistress of Straussís complex, gorgeous score. Her rhapsodic "Zweite Brautnacht!" elicited ecstatic applause. Unfortunately much of the The Omniscient Seashell (or The Talking Mussel)ís important Erda-like commentary was lost by being sung through a megaphone. Orchestra and chorus were top notch. Kudos to all involved in this strikingly successful and fascinating project.
Jan. 19. A packed but surprisingly cool house greeted the opening night of the Met LíElisir díAmore, suggesting that the publicís infatuation with a certain ailing tenor is waning. Compared to his "stand and sing" Calaf, Pavarottiís Nemorino was a miracle of youthfulness, once even kicking up his leg like a geriatric who had found the elixir of youth as well as the elixir of love. According to the tabloids, Pavarotti is Nemorino: a simple country bumpkin with a weakness for the ladies who gets fabulously rich and is suddenly surrounded by women. Sadly, the sextagenarianís voice was patchier than ever, he had to cough to clear his throat in the middle of phrases, high notes were not even attempted, and there were memory lapses. He nibbled on apples and drank water throughout. Despite all these follies the show was fun, heroically redeemed by Earl Patriarcoís superb Belcore, Paul Plishkaís slick Dulcamara and Ruth Ann Swensonís bewitching Adina. The Crayola-coloured sets looked like a bad acid trip, but the zany soldier extras raised many laughs.