Montreal Diary
Oct. 16, 1997. Australian guitarist Slava Grigorian stopped in at Centre Pierre-Péladeau on his first North American tour, organized by his new recording company, Sony. Salle Pierre-Mercure's sensitive acoustics allowed us to enjoy every note of the 21-year-old Grigorian's largely Spanish guitar program. Grigorian's playing is refined and delicate compared to the great Latin American and Iberian guitarists, but he is nonetheless an engaging, sensitive artist.
Nov. 10, 1997. Toronto's premiere early music ensemble Tafelmusik appeared at Salle Pierre-Mercure, hoping to follow up on their success in Montreal last year. Alas, their program of Purcell, Bach, Vivaldi and Handel was seriously marred by intonation problems and dozens of wrong notes, mainly from the violins. If this is their standard of playing, then Sony was quite justified in ending their recording contract.
Nov. 28, 1997. Opera McGill presented a marvellous semi-staged production of Handel's Giulio Cesare. Countertenor Matthew White took a giant step into the vocal big time as a splendidly sung, easily acted Cesare. He has all the elements of future stardom: a pleasant timbre, vocal weight, stamina, natural acting ability and sex appeal not often found among male altos. As the evil Tolomeo, bass Andrew Tees demonstrated astonishing vocal and dramatic mastery of the baroque style. Shannon Mercer was a powerful Cleopatra. The McGill Baroque Orchestra under Hank Knox generally gave consistent support, despite occasionally sour horns.
Dec. 2, 1997. Dutch cellist Pieter Wispelwey joined the Orchestre Métropolitain for a dishevelled run-through of Schumann's Cello Concerto Op. 129. It was a bad omen when stage hands forgot to give Wispelwey a chair, but that could hardly account for the cellist's lamentable performance. Wispelwey's execution was fragmentary and spastic, the bow skipping all over the instrument, splintering phrases and missing notes. The rest of the Orchestre Métropolitain program (Schumann's Symphonies No. 2 and No. 8) was enjoyable and demonstrated the group's continuing improvement. Wispelwey recovered somewhat for his December 7 recital for the Ladies' Morning Musical Club, which was adequate but inferior to his previous Montreal and Lanaudière Festival appearances.
Dec. 3, 1997. Les Jeunes Ambassadeurs Lyriques held their 4th Benefit Gala in Salle Claude-Champagne. Outstanding among the fourteen finalists were Italian soprano Chiara Angella who gave a stunning "Mi chiamano Mimi", French mezzo Sylvie Althaparro's moving "Letter" aria from Massenet's Werther, and Quebec soprano Ethel Gueret's brilliant navigation of Zerbinetta's aria.
Dec. 4, 1997. The McGill Symphony Orchestra and Choirs presented Beethoven's Symphony No. 9 and Berlioz' La Mort de Cléopâtre at St. Jean Baptiste Church. Mezzo Julie Nesrallah interpreted the Berlioz with aplomb, though it was hard to hear and enjoy all the subtleties in such a large space. Beethoven's great choral symphony, though well played by the student ensembles, was a bit below McGill's usual high standard. There was a repeated lack of unity between movements and sections. In the Molto vivace, the French horns and wind solos left something to be desired. In the Presto, brass and winds suffered brief fits of randomness. Vocal soloists Jennifer Maines-Chamandy, Michael Meraw and Anthony Flynn were up to the mark. A few more rehearsals would have brought perfection.
Dec. 6, 1997. East German conductor Gunter Herbig, former maestro of the Toronto Symphony, is a notable Brahmsian, as he proved in one of the Montreal Symphony Orchestra's most impressive recent concerts. Herbig conducted Brahms' First Symphony from memory, beginning strongly, with a deep rhythmic sense and a steady forward motion. In the Andante sostenuto Herbig coaxed poignant violin notes from the concertmaster and a resonant bass line from the lower strings. The third movement again showcased the lower strings, while the final movement confirmed the communion between Herbig and the orchestra, as they rose to an uplifting finale. Throughout, Herbig honoured the moody, romantic elements of Brahms' music by judiciously balancing forward movement and colour. The warm, intense, and unforced interpretation well-deserved the standing ovation it received. Horacio Gutierrez gave a respectable performance of Beethoven's Piano Concerto No. 4 in G major. -Martin Kamela
Dec. 13, 1997. A packed audience greeted the UQAM Choir and the Orchestre de la Société Philharmonique de Montréal's performance of Bach's Magnificat BWV 243 and the first parts of the Mass in B Minor BWV 232 in the lovely St. Jean Baptiste Church. The concert opened with a rendition of Bach's Violin Concerto BWV 1041 played lovingly by the orchestra (largely Montreal Symphony soloists) but often flat by violin soloist Vanessa Hasaruk. The Bach choral works were not as refined or moving as last year's Brahms German Requiem, the male choristers being notably weak. Colette Boky was the best soloist. Slovakian mezzo Maria Adamcova was adequate despite an odd timbre.
Jan. 14, 1998. L'Atelier de L'Université de Montréal's presentation of Gian Carlo Menotti's fluffy Amelia Goes to the Ball was a daring venture into English-language opera. Soprano Raphaëlle Paquette was an extravagant Amelia: her flexible coloratura has distinct potential. The rest of the cast acted well, though the singing was rough and the English pronunciation spotty. Nathalie Deschamps' direction was logical and animated. Puccini's Suor Angelica was the evening's highlight. Chantal Dionne in the title role of the suicidal heroine was very moving indeed. Staging of the Puccini by Renaud Doucet maximized the limited potential of the U de M chapel, with clever lighting, use of the backstage for perspective, and expressive grouping of the nuns. Louise-André Baril's piano accompaniment, especially in the Puccini, was delicious. Upcoming U of M productions: Offenbach's La Belle Hélène Feb. 20,21,22,27,28; Mozart's Don Giovanni March 20,21,22,26,28,29. Free. Reservations 343-6427.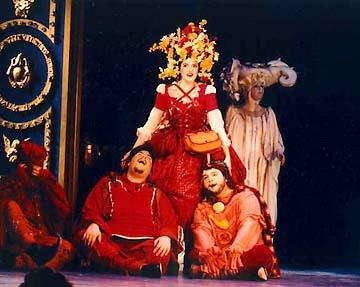 Jan. 28, 1998. Capacity audiences acclaimed Opera McGill's new fully staged Ariadne auf Naxos, its most visually beautiful effort to date. The production team of André Barbe (sets), Mireille Vachon (costumes), and Luc Prairie (lighting) worked miracles on a shoestring budget. The blue and gold sets created the illusion of luxury with the simplest elements; the costumes were witty and fanciful; and the lighting brought dreamy magic to the spirited onstage drama. The opera was double-cast. In the first cast, honourable mention to Ann Rowe (Prima Donna / Ariadne) and to rich-voiced mezzo Nora Sourouzian for a vocally rich Der Komponist. In the second cast, Patricia Roach was a superbly acted and vocally accurate Composer, Jennie Kethley had good high notes as Zerbinetta, and Zaza Zaalichvili brought welcome heft to Bacchus. In the two performances by the first cast the stage direction was choreographed and executed at the highest professional level, making this show a feast for the eye as well as for the ear. Unfortunately the director left the second cast to improvise their movement, with a predictably random and disappointing result. Upcoming McGill productions include an Opera Gala Benefit Concert on March 14, Pollack Hall, 8 pm, $12-$20; and the Black Box Festival (Busoni's Arlecchino, von Suppé's Zehn Mädchen und kein Mann, Pasatieri's La Divina), March 17–22, 7:30 pm, $5. Information 398-4547. (Ariadne auf Naxos, Opera McGill, photo: Robert Etcheverry)