Puccini: Turandot
R. Strauss: Ariadne auf Naxos
Massenet: Manon
Metropolitan Opera, New York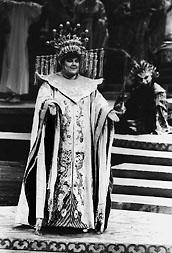 Impossible to get a ticket for the Pavarotti-Eaglen Turandot. This week the Zeffirelli production served as a back drop for a futile exercise in Pavarotti-worship. Pavarotti's long-awaited Calaf was apathetic and self-indulgent. He was obviously bored, barely moved except to sit down and he constantly turned his back to the audience to pop throat lozenges. He hardly looked at Eaglen during the whole opera and refused to kiss her in the final scene. Vocally he was frankly average. Yes, we heard the trademark Pavarotti timbre, but he shortened phrases and shied from high notes as if he was just marking at a rehearsal. And the crowd went wild. I don't know why Pavarotti undertakes such roles at his age. Lord knows he doesn't need the money. In the final analysis the real losers are the many true opera lovers shut out of the Met whenever Pavarotti turns the place into an expensive and exclusive circus. By far the most artistically satisfying performer was Hei-Kyung Hong as Li¨. Her acting was impassioned and her singing, complete with soft-spun pianissimi, was simply superb. Brava. Jane Eaglen's Turandot was more feminine and delicate than many recent Turandots (think of marmoreal Dame Gwyneth Jones, granitic Ghena Dimitrova, glacial Audrey Stottler). Eaglen didn't affright us with hair-raising high notes, wobbling or shrieking. Her gestures and facial expressions were communicative, she was quite mobile, and her instrument was sweet and steady. She is obviously a serious and sensitive artist. (Canadian audiences will get to see her live at the NAC in Ottawa on January 14, 1998, at 8 p.m.)

Equally impossible to get a ticket for the Met's Carmen, again without visible or audible reason. Domingo and Graves have done JosÚ and Carmen at the Met before, and better. Graves is still voluptous and vocally bewitching, but her gypsy has become a caricature of what it formerly was: please, we don't need another sleazy Carmen. Domingo was not in good voice, the flower song was hoarse and he failed to hold the high notes. Norah Ansellem's Micaela was sweet but mannered, and she has a bad habit of twitching her head. Gino Quilico is a sexier and smoother-acting Escamillo than Lieferkus, but his voice was in a constant state of unreliable flux. Conductor Yves Abel had his work cut out for him trying to unify these unruly elements. Fortunately the Met orchestra can play Carmen in their sleep, which explains the impression that everyone was playing on automatic pilot. The Met's other French offering was Massenet's Manon, a vehicle for America's soprano sweetheart RenÚe Fleming. Last year I enjoyed Fleming's Rusalka immensely,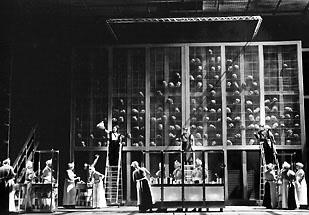 but I was not really convinced by her Manon. It looked good on paper, but in person Fleming is too much of an American Earth Mother to play the teenage French flirt. Her coloratura was technically acceptable, but her voice is too cool and heavy for this flimsy part. Though her Paris Manon was well-received there, her pronunciation of French vowel sounds is not perfect. Marcello Giordani's des Grieux was very strong and admirable. Unfortunately the entire cast overacted their parts with an exaggerated and juvenile misunderstanding of French character that ruined the whole opera for me. Only veteran Michel SÚnÚchal was true to life, but no one took his cue. The sets were cheaply painted flats, and Julius Rudel seems to have forgotten how to make Massenet interesting in the thirty years since he did it so well with Beverly Sills. Tickets were easy to get for Ariadne auf Naxos, and it turned out to be the best show of the week. The 1993 Moshinsky-Yeargan production offers a realistically cluttered Prologue and a gorgeous, ethereal setting for the Perfomance. Susanne Mentzer's Composer was passionate but a bit lacking at both ends of her range, while Heinz Zednik's Dancing Master was charismatic, rich-voiced and amusing. Nico Castel's Major-Domo was vulgar and awkward, with slurred pronunciation. The Lackey was far more aristocratic. Thomas Moser displayed good phrasing and middle voice as Bacchus, but his top notes were strained. Najade, Dryade and Echo appeared atop 20-foot high ball gowns and sang ravishingly, each of them of solo quality. Deborah Voigt's Prima Donna/Ariadne is vocally irreproachable, and her aria was riveting, but she should be more haughty. French soprano Nathalie Dessay blatantly stole the show as Zerbinetta. Though Dessay has vocal limitations they count as nothing compared to her spunky, utterly charming acting. Dessay's recordings give no idea of her delightful presence and enchanting singing. She establishes an immediate, intense rapport with the audience, and you just can't take your eyes off her. Her big aria literally stopped the show for minutes of frenzied clapping. Even Maestro Levine clapped, a rare honour, but one Dessay deserved. I will never again miss a chance to hear this wonderful artist perform.
Philip Anson